The 2032 Olympics provides the Gold Coast a in once-in-a-lifetime opportunity to shape itself into whatever it desires. The key initiatives to the city's success.
The Olympic Games will showcase the fastest and strongest men and women on the planet to up to 8.7 billion people in 2032.
That will be the world's population in 11 years. It is 7.9 billion now. The Gold Coast will have more than 800,000 of those people.
But what happens on the track and pool at those Games will pale in significance to the vibrancy and success of the Gold Coast.
In co-hosting the world's biggest sporting event, this city has a once-in-a-lifetime opportunity to shape itself into whatever it desires. It could become an events, tourism and business mecca, powered by rich and unprecedented education, health and technology sectors and state-of-art infrastructure – creating thousands of jobs.
Or it could waste the next 10 years and do little.
Through the Bulletin's Future Gold Coast series, city and national leaders, and the world's best tourism and marketing brains have put a spotlight on some of the key initiatives and opportunities the city should explore and harness if it is to maximise the Olympic dream. Here is a taste of them:
INFRASTRUCTURE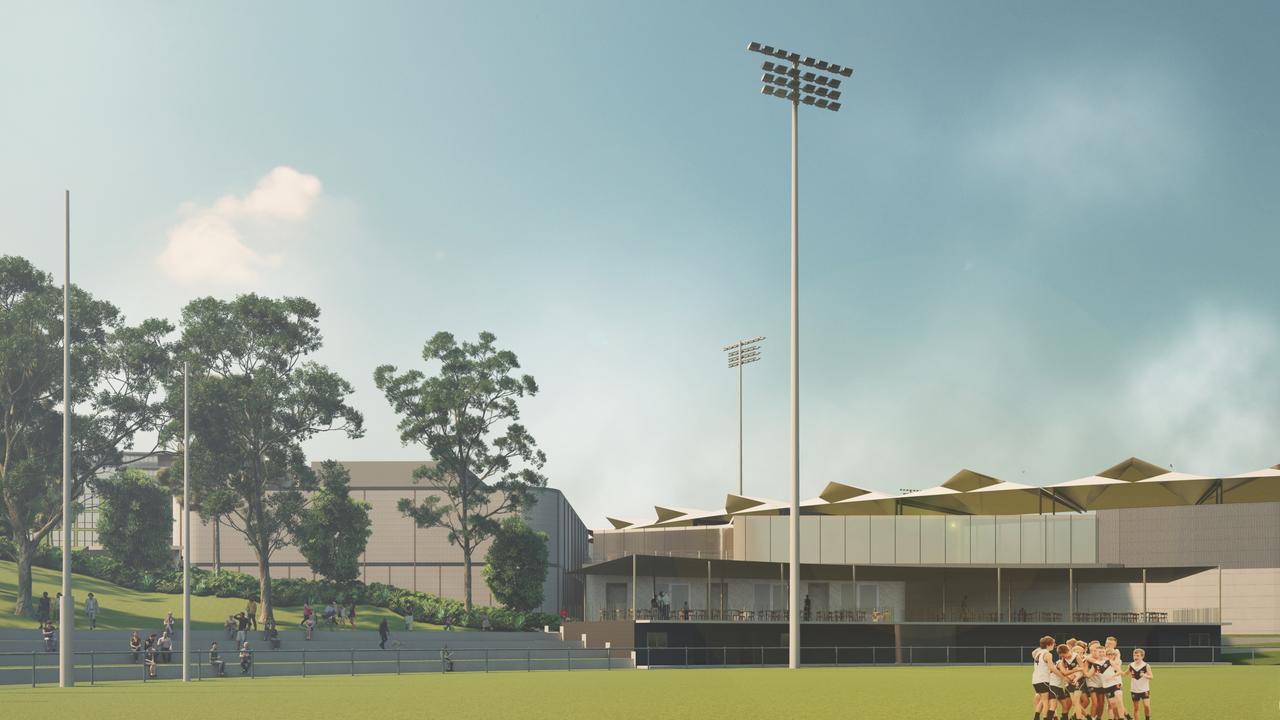 Artist impression of a proposed boutique stadium developed for Southport Sharks on the Gold Coast.
At least two boutique stadiums will help turn the city into a global events mecca. Both Southport Sharks and Gold Coast City Council are independently developing their own plans for such complexes. The city is lacking a world-class venue to host top music acts and needs to tap into the booming e-sports market.
An upgrade and expansion to the city's convention facilities to snag a larger share of the highly lucrative national and international conference market. Brisbane's Harvey Lister wants to spend $750m in providing a 12,000-seat stadium, three specific conference centres, and ballroom. It could be a permanent home to the Logies, international sport and the rich conference market. Before him, a $100m upgrade from The Star for casino exclusivity in the city was rejected.
A new hi-tech, high-productivity innovation precinct for sport-related economic growth.
The Olympics present an ideal opportunity to grow the sports tech sector. That includes the business of sport, elite sport, community sport and active living, venue design and operation, media and fan engagement, augmented reality and e-sports, analytics and apparel.
The completion of the 45km Coomera Connector between Nerang and Logan. Work will start this year on Stage 1, but it needs to be completed as soon as possible. It is projected to take more than 60,000 cars off the M1 every day. Just as important is the building and upgrading of interchanges, exits and aerial roads.
The light rail needs to run from the airport to Helensvale. At the moment, it stops at Broadbeach. Contracts for vital junctions for Stage 4 need to be drawn now. The longer we wait, the more expensive it becomes.
An operational electric bus network connecting light and heavy rail lines while planning on future east-west light rail connections progresses.
The extension of the heavy rail line from Varsity Lakes to Gold Coast Airport after the federal government dumped its 2019 election pledge to build a "fast rail" train between the Gold Coast and Sunshine Coast. That project had been touted as a critical people mover but the Prime Minister's Olympic envoy last week poured cold water on it. Three new stations will be built as part of the Cross River Rail rollout in 2024, but two things are missing: Our biggest gateway, the Gold Coast Airport, is an orphan from a proper transport viewpoint and the connection between here and Brisbane is too slow, expensive and unattractive for getting more cars off the road.
TOURISM AND BUSINESS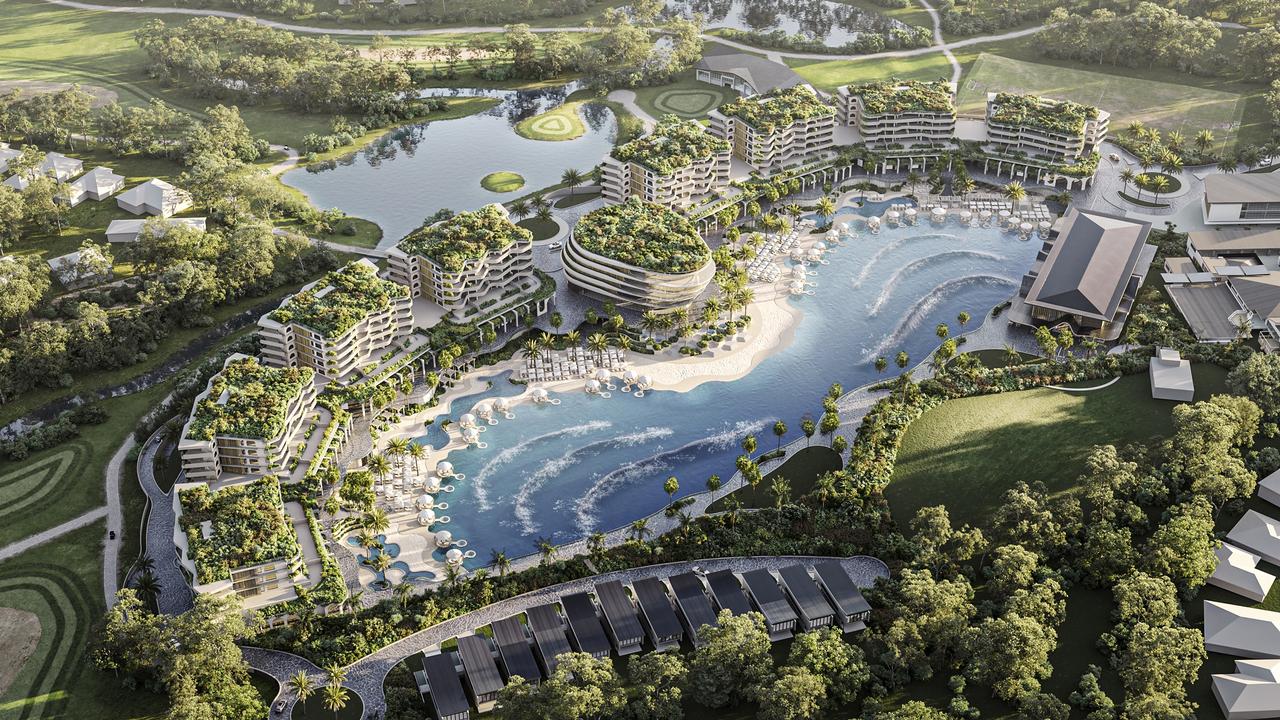 Artist impression of the proposed integrated resort and surf park at Parkwood Village.
A clear and precise plan for how to market itself for the Games and the audience it wants to target. Marketing guru Michael Payne, who has worked on 20 summer and Winter Olympics, in the past 40 years told the Bulletin last week that Sydney hit the US market; Barcelona was "ranked No. 20 as a convention city in Europe but within two years of the Games it was No. 3 and it held that for two decades." Montreal built an airport to nowhere and Athens constructed stadiums it never used again.
"Some of the best facilities in London (in 2012) were temporary. If you put up a decent amount of banners outside, nobody is the wiser. No politician needs to go off on an ego trip over this because it is not necessary."
While it sounded logical, he said those decisions needed to be made before any other: "Budgets have a habit of blowing out if there is a last-minute scramble and, famously, Montreal got so far behind in building its facilities that workers were paid triple time on 24-hour shifts to get things finished."
The delivery of a raft of new tourism attractions to refresh the Gold Coast's image as a hotbed of activity for holiday-makers. These include a giant wave pool at Parkwood, an expansion of the dive site off Main Beach, two new resorts at Dreamworld and Movie World.
A commitment from federal and state governments to fund one third each of Griffith University's proposed ADaPT building – kickstarting the Health and Knowledge precinct in Southport into life. The precinct is an uncut gem. Global companies are quietly starting to see the opportunities and benefits, unearthing groundbreaking technology and research. It needs to be supported.
Roll-out of more fibre connections on the Gold Coast by the NBN – expanding the number of businesses able to access super high-speed broadband services with no upfront cost. Gold Coast leaders have been refreshingly ambitious in trying to lure big-business operators, supported by council's optic cableway down the heart of the city.
More certainty over border and lockdown rules, giving interstate and international visitors confidence to book trips to the Gold Coast.
The small business sector needs some love. The engine room of the Queensland economy was decimated by Covid. Business owners need the confidence and certainty to plan ahead so they grow and return to supporting hundreds of thousands of jobs.
Co-hosting the world's biggest sports event brings new frontiers in sports science and high performance. The Gold Coast is a nursery for sporting champions, across a number of codes, and outsiders want a piece of it.
Queensland already has an emerging sports science sector servicing high-profile clients including English Premier League teams, major league baseball clubs, NFL organisations and the NRL.
Australian Olympic Committee chief executive Matt Carroll last week cited interest from Oceania and Asian nations to develop their sporting talent in South East Queensland, including a delegation from Sri Lanka. Nationally, he said four Olympic sports were planning to move their headquarters to the region.
Sports industries are on the rise. A KPMG report to the Australian government calculated 18 per cent growth across sectors from 2012-2013 to 2016-2017 to more than $32bn.
FILM AND CULTURE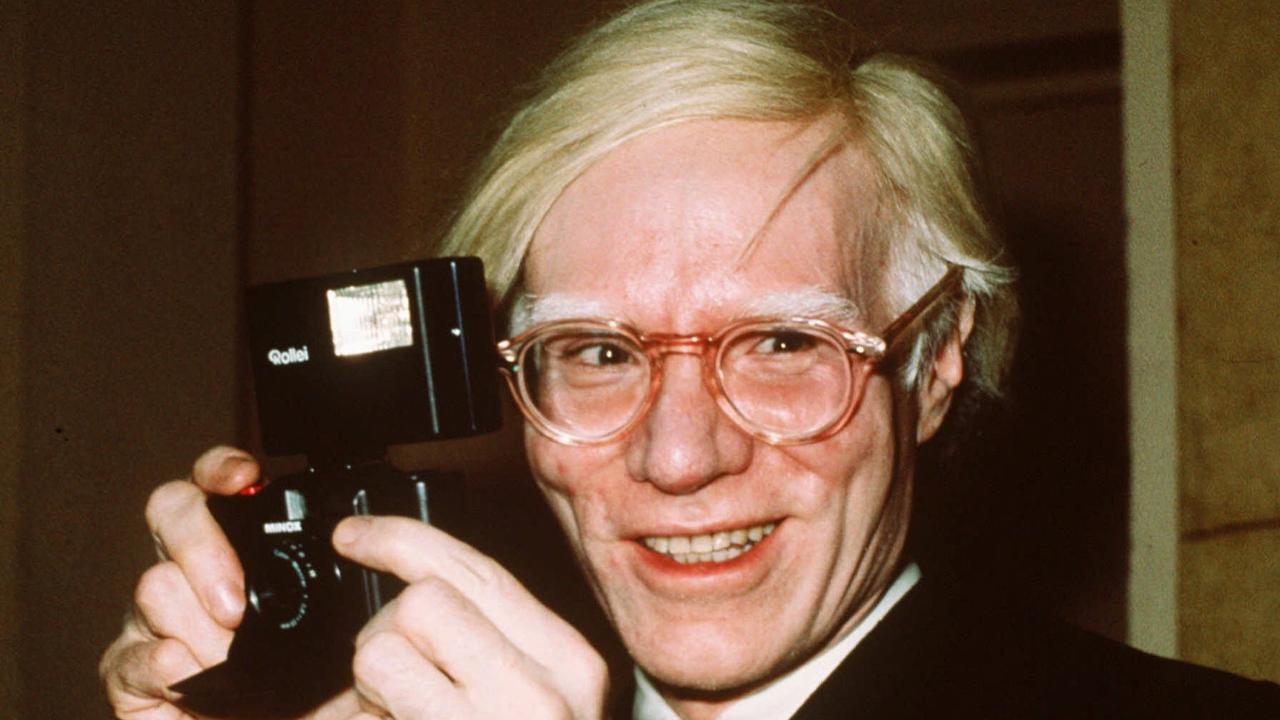 Andy Warhol is signed to appear on the Gold Coast, at least some of his works will be in 2023 as part of the delayed Contemporary Masters from New York: Art from the Mugrabi Collection. (AP Photo/Richard Drew, File)
Continue boosting the lucrative film and movie sector as a major employer. Quality people are based here and four films, among many others, are booked for next year, luring big names such as George Clooney. The demand is putting pressure on facilities.
Andy Warhol is signed to appear on the Gold Coast, at least some of his works will be in 2023 as part of the delayed Contemporary Masters from New York: Art from the Mugrabi Collection. It is the early fruits of what is expected to be an exciting journey at HOTA.
Like tourism and small business, the live music scene was ravaged by Covid, but its re-emergence presents an exciting opportunity. A boutique stadium would be a magnet for international performers and work is being done to turn parts of Southport into Fortitude Valley.
EDUCATION
Coomera State Special School will open in 2022
The Bulletin on Saturday revealed the Coast would get up to 37 new schools by 2041, 17 alone before the Olympic Games. However, there is not much in the kitty for central and southern suburbs. It's likely extra learning areas will have to be built alongside existing infrastructure. Another worry is the schools with 2500-3000 students. There is already three this size and it begs the question if they lose their community feel.
A severe lack of schools that offer alternative ways of learning for those with Autism, ASD and other learning challenges is glaringly obvious. Experts say the way children will consume information will change, but what about those who don't fit into the mainstream system where it's "sit down, shut up and learn"? Southern Cross University's Professor Amy Cutter-Mackenzie-Knowles told the Bulletin: "Mainstream schooling doesn't work for a lot of children and what we're starting to see is a change to the one-size-fits all approach to schooling. We'll see the breakdown of the traditional schooling system in that sense and start to look at what's good for children and young people, not just what's cost effective and efficient for politicians and economies."
Governments need to realise the importance of early childhood learning, working with providers to ensure staff are well numerated, because most trained staff leave early childhood for teaching jobs. There's value in developing the mind of young children before formal school.
International students will continue to flock to the Gold Coast because of its amazing lifestyle, but more must be done to process study visas in a timely manner so the city remains an attractive place to learn, for they also spend money, work jobs many locals won't. Specific accommodation is also needed to house them.
HEALTH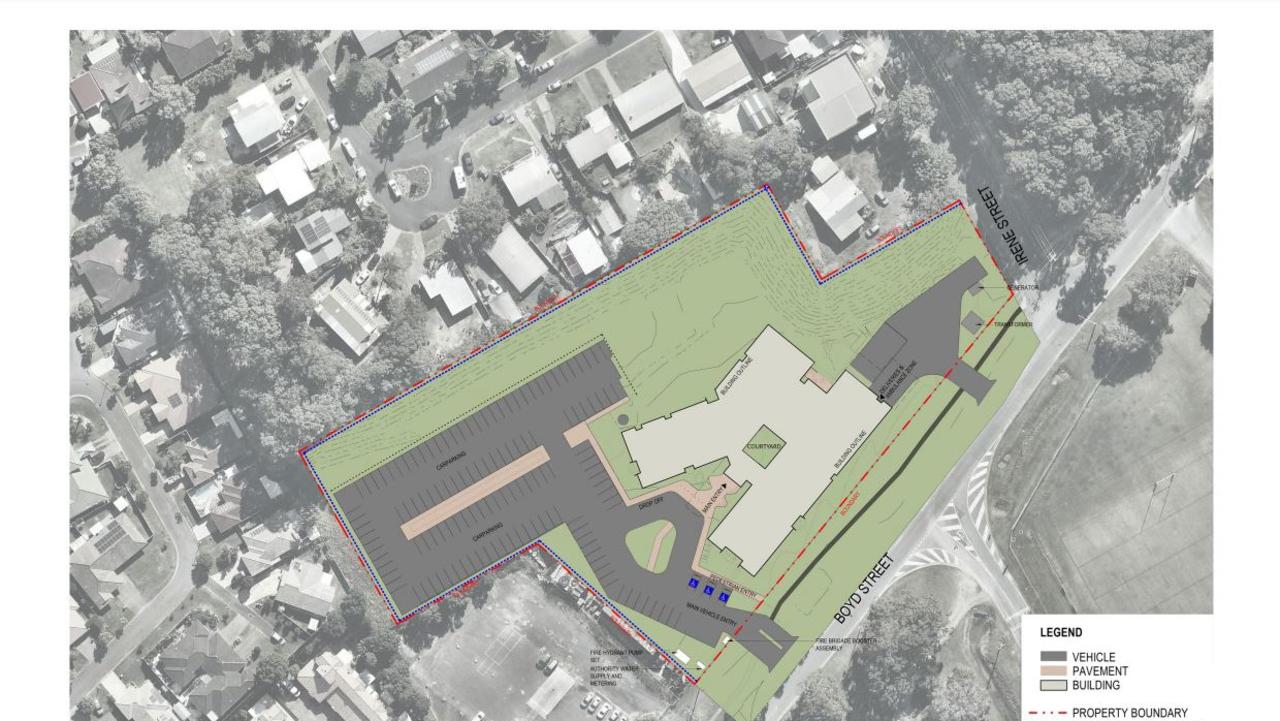 Tugun's new satellite 'hospital' won't include an emergency department or overnight beds and will instead focus on early intervention and day therapy.
The public system is overwhelmed, politicians need to stop the blame game and find a solution to free up and provide more beds. GPs, who can handle most of the people who attend EDs, should be promoted and incentivised so they're the first port of call for sick residents.
Public maternity patients are being treated in private facilities at a cost of about $10,000 each, which is $1m for 100 patients. Surely there's a smarter way to spend taxpayers' dollars. It is not a financially viable solution.
The Tugun health facility is not a hospital, it's an outpatient facility, similar to GP clinics. It needs overnight beds and services. There'll also be people who attend thinking it has an emergency department, which it doesn't.
A new mental health facility with around 40 beds is not enough to meet the needs of the city's growing population, with one-in-five people experiencing a mental health issue. Incentives should be given to psychology graduates so they band together and open up public-private facilities to help treat patients.
Older Gold Coasters are so scared they'll be treated poorly in aged care homes they'll do whatever it takes to be cared for in the home. It's likely hundreds of people will sign up to take care of the city's ageing population, but care must be taken to ensure they are accredited and trained correctly. A one-year training course specifically focusing on elderly care needs should be a priority and a requirement of all carers.
ENT outpatients are waiting up to 18 months to be seen, efficiencies in the way Category 3 appointments are handled across all areas must be increased. Perhaps like the old days, public health teams can visit schools, this would be a smart way to catch problems early.
Future vision for the Gold Coast Hinterland
November 10, 2021
A CABLEWAY to Springbrook, "courageous decision-making" and "turbocharged" marketing will enhance the Gold Coast Hinterland's international appeal within a decade, tourism and political leaders say.
The "green behind the gold" will feature heavily in tourism campaigns in the lead-up to the 2032 Olympics as the city's biggest sectors work to tap into the region's natural assets.
However, Destination Gold Coast CEO Patricia O'Callaghan said that would require "new thinking and courageous decision-making".
"We have always been proud of the green behind the gold and there is a huge opportunity for it to take precedence.
"I'm talking about our walking trails, council is looking into a cableway and our tour operators are looking at ways connecting it with the city.
"New thinking is happening and it is how we turbocharge the marketing."
The cableway project has proved highly divisive, with multiple private proposals failing in the face of staunch opposition by environmental groups.
A report by consulting firm Urbis in June 2021 found the new tourist attraction would require a capital investment of about $170m, and ongoing operational costs estimated at $5.1m.
However, it warned it needed to be eco-friendly and complement the character of the national park.
Mayor Tom Tate said he was confident a cableway would be a reality come 2032, after nearly 25 years of debate.
"We will look at progressing investigations into this project when the new CEO is appointed this month,'' he said.
"I have consistently said we must examine the project from two aspects: as a public transport option should the main road network to Springbrook fail again (through multiple landslips) as it did in 2019, and as an additional tourism product for locals and visitors to enjoy.
"In Australia and globally, there are millions of people with mobility issues. They deserve the same opportunity to view our magical hinterland as we all do.''
HOW O'REILLY'S IS EMBRACING THE NEW NORMAL
Despite closing his doors last year for the first time in nearly a century, O'Reilly's managing director Shane O'Reilly says the pandemic has primed the longstanding rainforest retreat with a positive outlook.
And the world is finally realising the magic of the Gold Coast hinterland.
At the height of the pandemic, 80 staff were stood down and doors to the hotel were slammed shut for six weeks.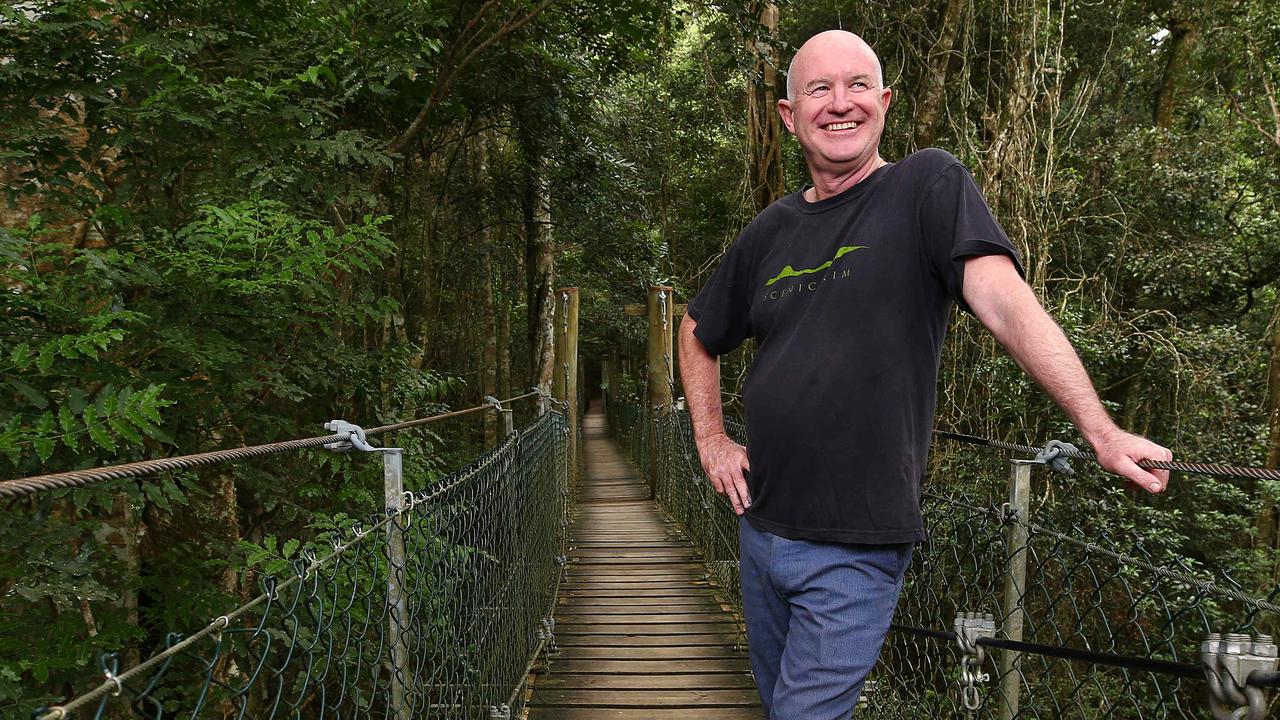 O'Reilly's Rainforest Retreat managing director Shane O'Reilly feels confident about the future of hinterland tourism. Pics Adam Head
Mr O'Reilly says Covid-19 "shifted perceptions" around hyperlocal travel – and those who traditionally craved short-haul flights offshore finally started to recognise the allure of their own backyard.
"We have a very strong outlook on domestic tourism for a number of years. I imagine there's a strong percentage of the Australian population that aren't interested in travelling overseas anymore," he said.
"Conversely, I believe the inbound international traveller market will come back stronger than it was before Covid."
One of the villas above the treetops at O'Reilly's Rainforest Retreat.
Unlike other destinations looking to sell the next shiny big-ticket item, Mr O'Reilly says he has the untainted natural beauty of Lamington National Park.
"We are offering unrivalled access to one of Australia's most unique national parks with a huge range of interconnected hiking trails through ancient rainforest – mainland Australia seldom has anywhere else like it.
"Hinterland tourism on the Gold Coast is mainly made up of small operators whose primary goal is to sell the outdoors to those who may not have been interested before."
For Mr O'Reilly, who forms part of the Scenic Rim's O'Reilly family dynasty, international tourists will always look to Australia as being a safe, clean and green destination and that Covid was "great" for hinterland tourism.
"Coronavirus gave us the first opportunity in 94 years to stop, reflect and reassess where we are headed long-term.
"Everything up until that point was achieved while remaining completely open and operational."
The iconic hinterland eco-resort has withstood cyclones, bushfires and financial losses, yet presses on in the face of adversity because of its one immovable drawcard – the pristine Lamington National Park.
"The Gold Coast hinterland was put front and centre of everyone's mind when deciding on pandemic vacation options," Mr O'Reilly said.
"The pandemic gave many people a chance to experience what it's like for the first time and we expect this continued trade trajectory over the next five to ten years."
Mr O'Reilly says the only thing standing in the way of future progress are some of the stringent council approvals.
"If we want hinterland tourism to continue to evolve and thrive, we need to look at the way approvals are granted from local council and why they should differ to the ones in built-up or metropolitan areas."