The heart of Brisbane is on the move.
Billions of dollars of office, hotels and residential towers, and city changing infrastructure is being are built or waiting for an opportunity.
And they will create a unique "connected" pedestrian-friendly subtropical world city with more public transport and less cars.
Survey service company Aerometrex has developed a 3D model giving us a glimpse on how the current pipeline of developments will create a new look BrisVegas.
Property Council's Queensland executive director Jen Williams said the city has an "exciting future".
"There are a lot of fantastic projects either under construction or proposed," she said.
"Connectivity is a huge focus for Brisbane going forward and pleasingly we're seeing Brisbane City Council working closely with the State Government and the private sector on this.
"The aim is to be more pedestrian friendly, get more people on the ground and focusing on simple things like pavement treatment, pathways and laneways to make it easier for people to navigate where they're going."
City-changing projects such as Queens Wharf and the Cross River Rail will go hand-in-hand with innovative office towers like Suncorp's new head office at 80 Ann Street and the groundbreaking Midtown Centre.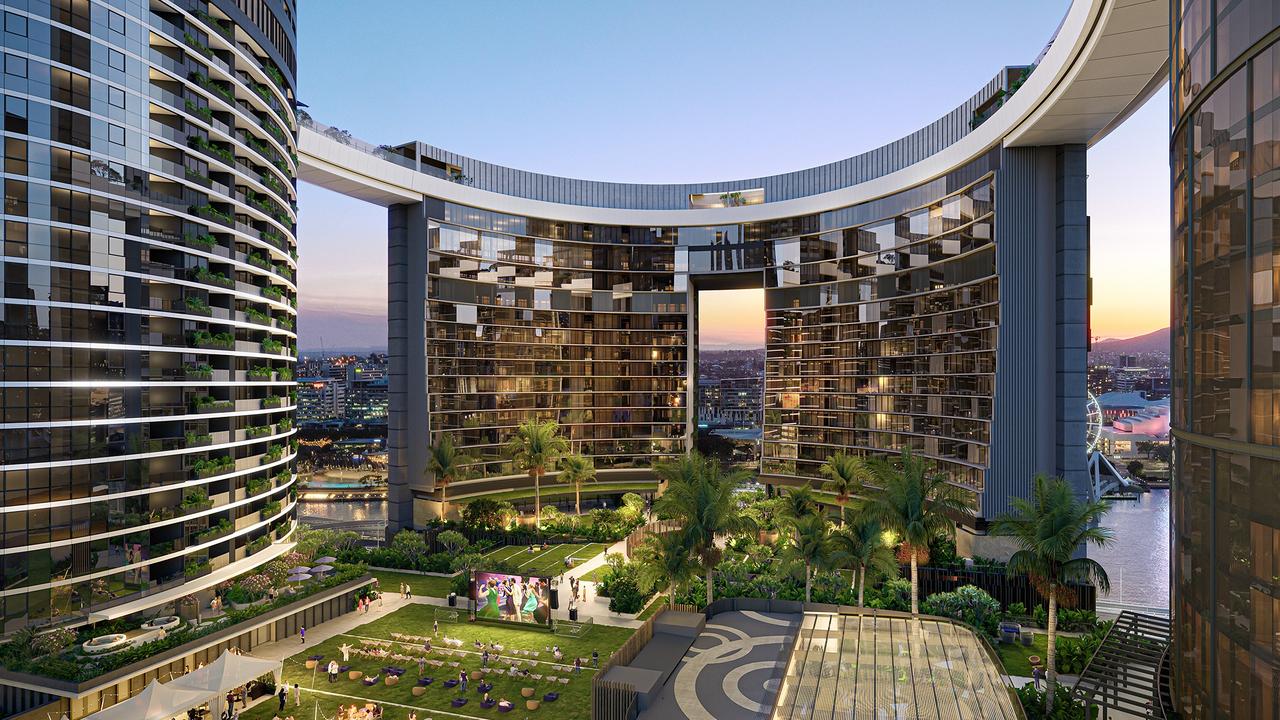 An artist's impression of Queens Wharf.
There are dozens of projects earmarked for the future like Brisbane Live, Brisbane Waterfront by Dexus, Charter Hall/Investa's 360 Queen Street and green bridges that will connect and enhance the city.
DMANN Corporation's David Mann, who is co-developing the Midtown Centre which will be completed in the middle of the year, said the Cross River Rail's Roma Street and Albert Street stations will spark development while he forecast the latter will create a precinct similar to Martin Place in Sydney.
"For the first time in Brisbane's history you're going to have a train station in the centre of the city which will be crucial to the growth and development of the CBD," he said.
"Anything with 300m to 500m from those core station is going the benefit from that,
"It would be great to see growth occur around the station at a revitalised Roma Street area as well because that North Quarter is going to have some of the most exciting future developments in the CBD."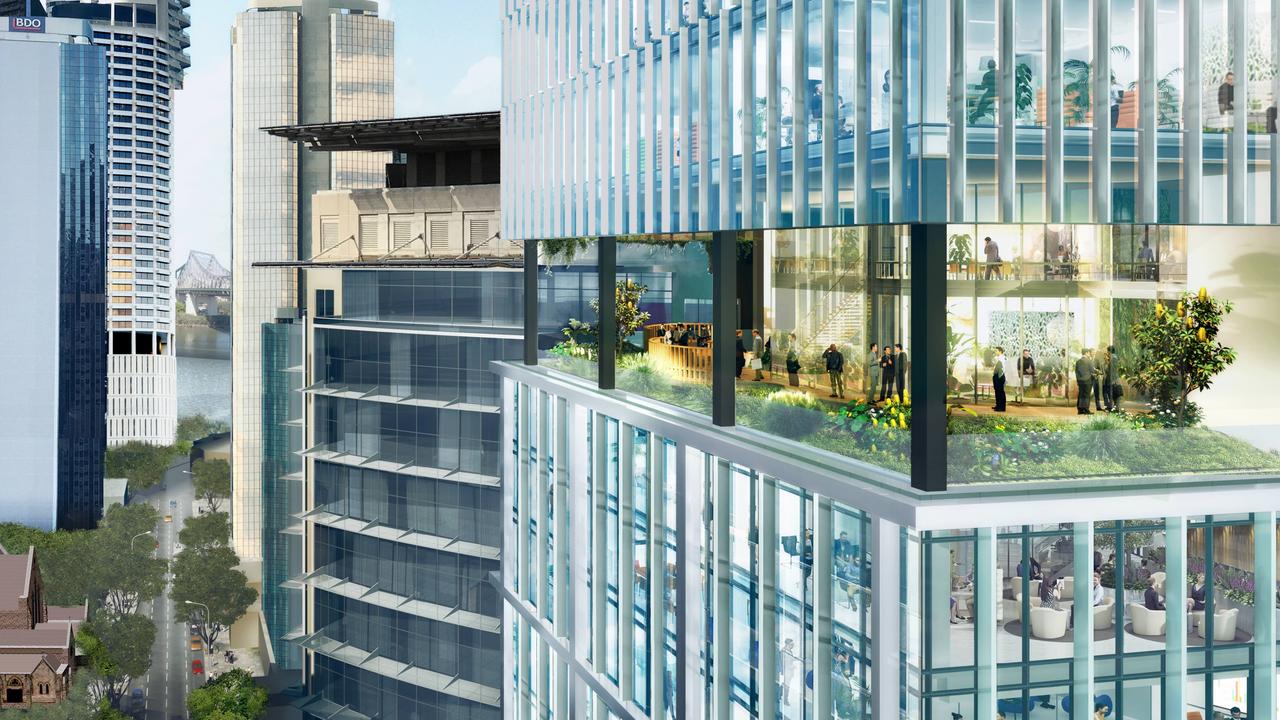 Artist's impression of Ashe Morgan and DMANN Corporation's Midtown Centre tower which will be completed in the middle of the year.
Mr Mann said the extension of the Brisbane City Council's footpath upgrading program was critical to the connectivity of the CBD and which incudes new laneways.
"The Midtown Centre is the missing link in that cross CBD laneways and you will be able to mostly walk through malls and laneways pretty much from Margaret Street to the Suncorp building on Ann Street through to Turbot Street," he said.
"Carparking is not the focus anymore and it hasn't really been for a long time. The focus will be on pedestrians an public transport."
Aerometrex geospatial innovation manager Fabrice Marre said its 3D models were a "digital replica created for the real world" created by a technique called photogrammetry which is the art and science of extracting measurements from photographs.
"To produce a 3D city model, many aerial photographs must be taken from multiple angles. Aerometrex use fix-wing aircraft or helicopter platform to cover very large areas," he said.
"Using powerful algorithms, the geometry and texture of all the objects visible in the photographs such as buildings, trees, roads, street furniture are automatically extracted to produce realistic, location-accurate, and high-resolution 3D city models."
Mr Marre described the 3D models as being part of a "universal language" which provide the foundation data to simulate, analyse and communicate complex problems in a simple manner and offer numerous economic benefits.
"It's in town planning and urban design that 3D city models offer the most direct applications. Other applications are seen across transport and infrastructure, urban logistics, virtual tours, event planning, risk management, coastal erosion monitoring."
TOP BRISBANE CBD 10 PROJECTS
QUEENS WHARF
The construction is well under way. The $3.6bn Queens Wharf precinct will include four new luxury hotels, more than 50 new bars and restaurants, along with 2000 apartments and a public Skydeck known as the arc which straddles four buildings as well as urban fabric refurbishments to the North Bank of the river. The project also involves the transformation of the current heritage treasury building into a retail centre and a new pedestrian bridge that links to South Bank. The core integrated resort development is expected to be completed in 2022, with other parts of the project to open later.
Queens Wharf from South Bank, an artist impression.
CROSS RIVER RAIL
Work has started on the $6.8bn project which is Queensland's largest infrastructure development to date. The Cross River Rail is a 10.2km rail line from Dutton Park to Bowen Hills, which includes 5.9km of twin tunnels under the Brisbane River and Brisbane CBD. The project includes the construction of four new underground stations at Boggo Road, Woolloongabba, Albert Street and Roma Street. It will also deliver upgrades to eight above-ground stations including: Salisbury, Rocklea, Moorooka, Yeerongpilly, Yeronga, Fairfield, Dutton Park, and Exhibition.
WATERFRONT BRISBANE
Construction on Dexus' re-imagining of the Eagle Street Pier and Waterfront Place precinct is anticipated to start in 2022. The $2.1bn project includes two new towers, enhanced retail offering, substantial improvements to the riverwalk, large public plazas opening on to the river a widening of the riverwalk to at least six metres for the full length of the site ramping to allow cyclists ease of access to street level.
An artist's impression of Waterfront Brisbane.
BRISBANE LIVE
After being given State Government approval progress the $2bn Brisbane Live entertainment precinct project at Roma Street Station seems to have stalled. But what is planned is a 17,000 person entertainment arena complex which would be built above the open-air Roma Street Rail Yards. Surrounding the arena, a large scale entertainment precinct is planned which would include a variety of mixed-use buildings. Importantly underneath the arena the Northern Busway — which was at the Transit Centre which has been demolished as part of the Cross River Rail project — will be sunk underground. It will interconnect with the new underground Roma Street train station as part of Cross River Rail. That would make Brisbane Live would be the most connected piece of infrastructure in they city.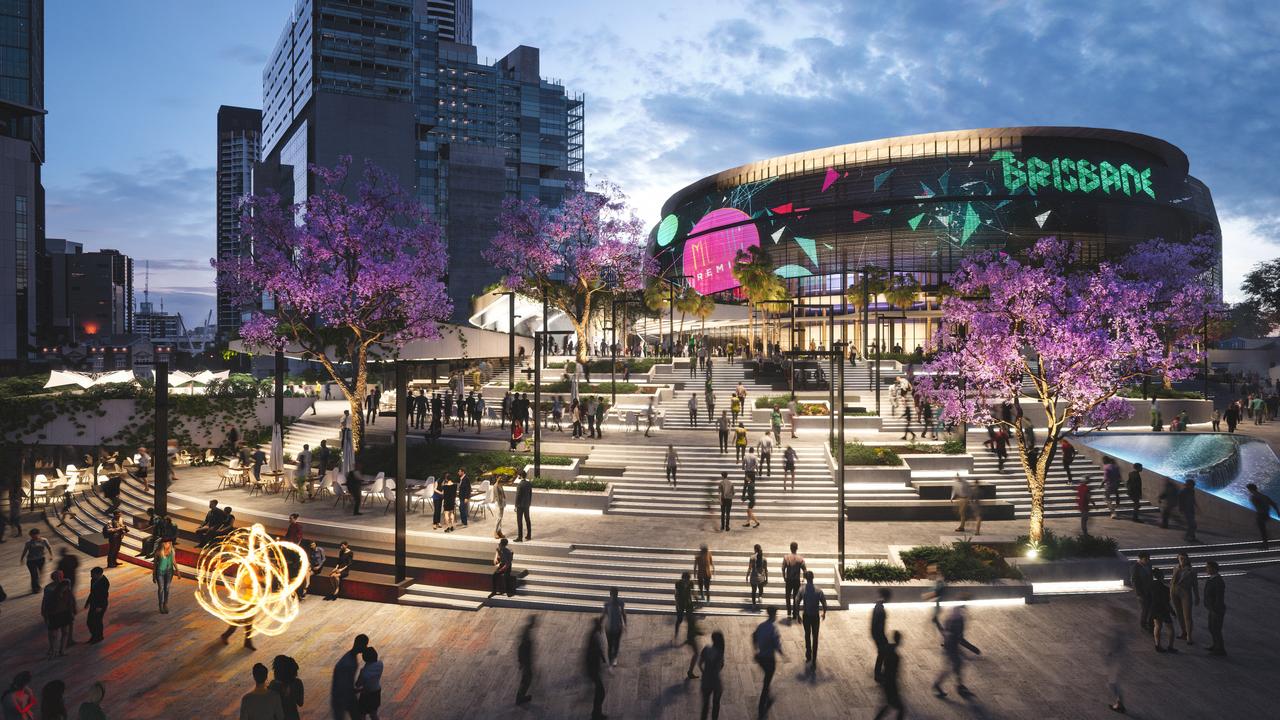 An artist's impression of Brisbane LIVE
BRISBANE METRO
The $1.24bnbn project was initially proposed by the Brisbane City Council as a subway line which would supersede the Northern and Southern Busways. Although retaining its original name, the project has since been updated to a turn-up-and-go high-frequency busway project which includes 60 new electric bi-articulated buses, upgraded Busway infrastructure and a new underground station at the Cultural Centre in South Bank. A new busway tunnel will also be dug underneath Adelaide Street connecting to the Central Busway near King George Square underground station. The project was recently approved by the State Government to proceed with preliminary site works now occurring.
360 QUEEN STREET
Work started this year clearing the site in preparation for a $650m 40-storey plus office tower. Construction of the actual tower will depend upon securing a precommitment but the Charter Hall/Investa project designed by Blight Rayner will include laneway retail and a public piazza, basement carparking, a podium level with provision for a gym and childcare, end-of-trip facilities and about 50,000sq m of office space.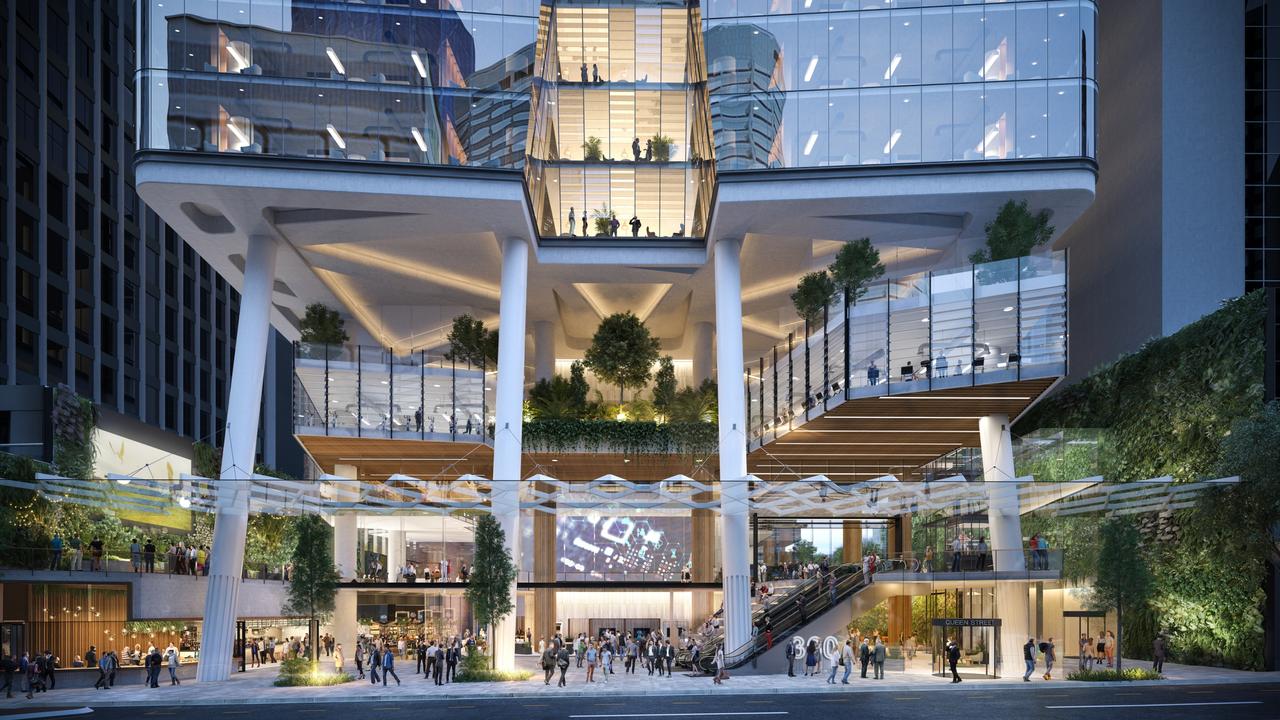 Rendering of Charter Hall's proposed new office tower at 360 Queen Street in Brisbane.
BRISBANE QUARTER
Developed by Shayher Group, on the old Supreme Court site the three-tower project which takes up a whole block, includes a completed W Hotel and 300 George commercial office tower. The remaining 82-storey tower The One Residences will be completed later this year.
80 ANN STREET
The Mirvac developed $836 million and newly christened Heritage Lanes in the CBD will be Suncorp's new headquarters. The 35-level tower at 80 Ann St in the CBD is expected to be completed by February 2022. The building's design provides a number of breathable spaces throughout to take advantage of the local climate and also pays homage to the old Brisbane Produce Exchange which was located on the site until the mid-1900s. This is reflected in the heritage facade fronting Turbot Street and the marketplace experience being created on the ground plane which extends through to the main lobby on Level 1.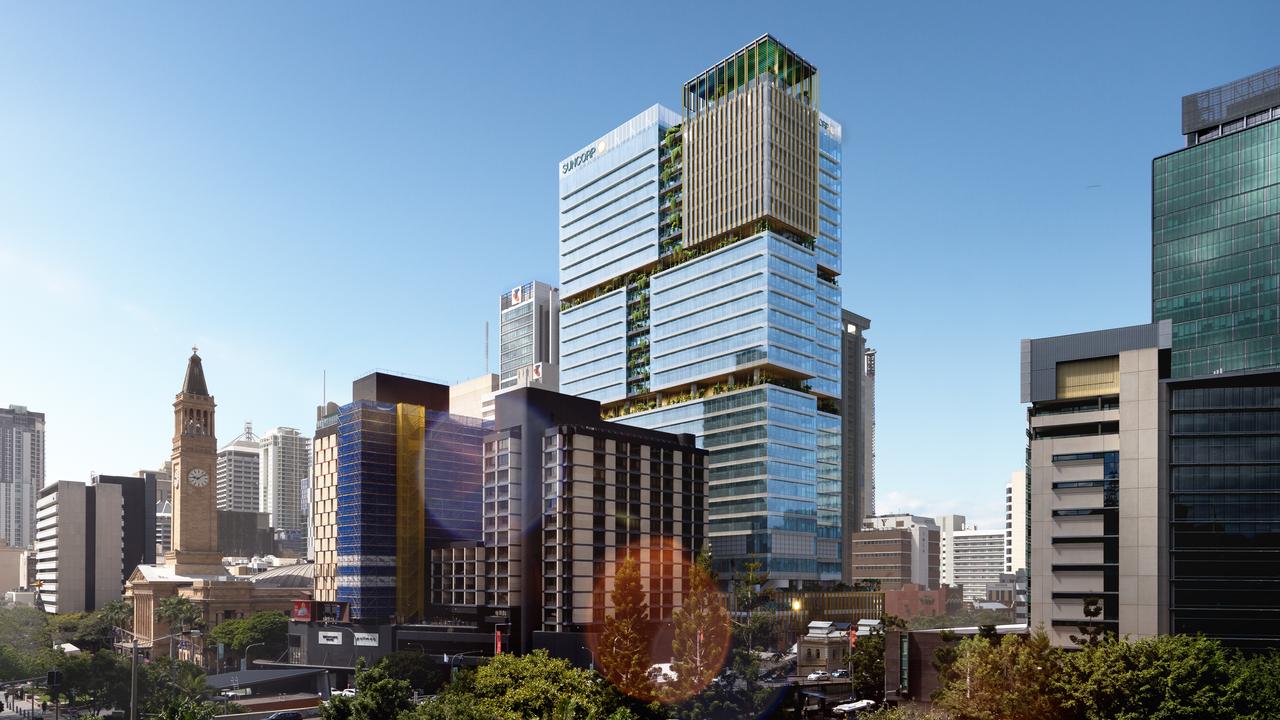 An artist's impression of 80 Ann Street in the Brisbane CBD.
THE MIDTOWN CENTRE
The $175 million Midtown Centre development in the CBD as merged two former government buildings straddling Charlotte and Mary streets to create a 26-storey A-grade tower. Developed by DMANN Corporation and Ashe Morgan it will be Rio Tinto's Queensland headquarters and will be completed by the middle of the year.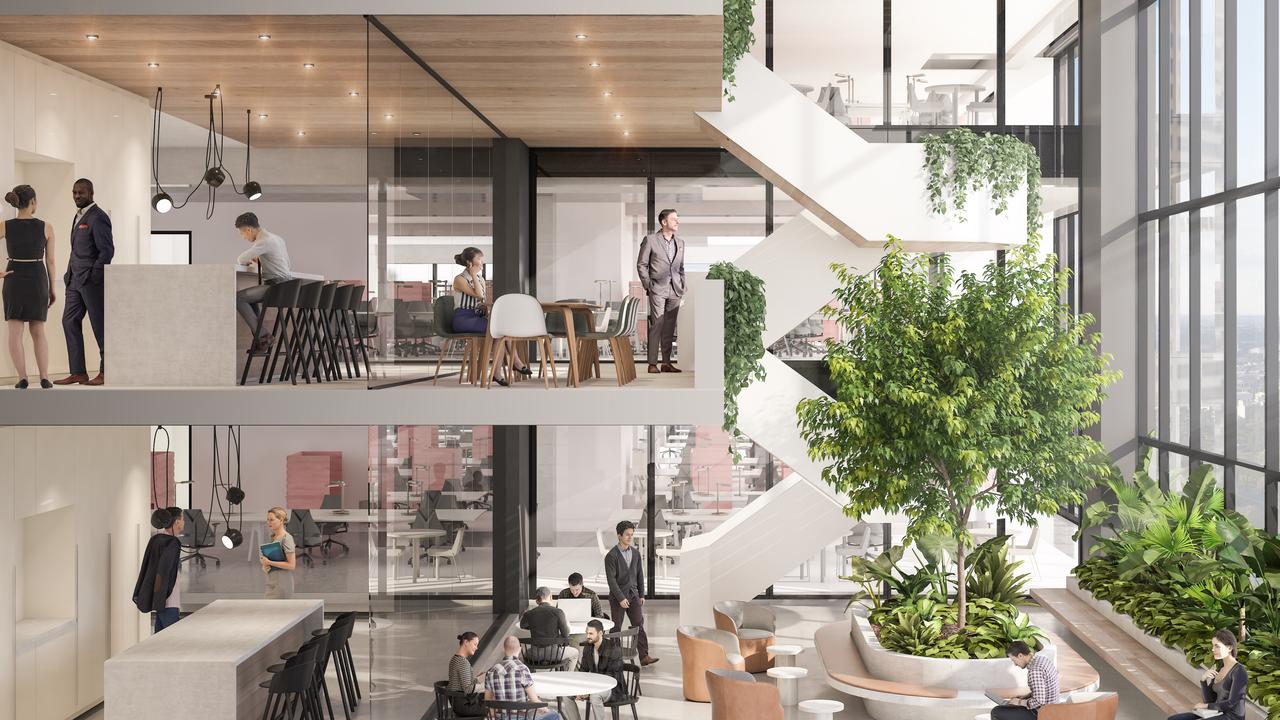 An artist's impression inside the Midtown Centre.
205 NORTH QUAY
Super fund developer Cbus Property, in conjunction with its local partners Nielson Properties and the Raniga family, is moving ahead with plans for a $600 million office tower in Brisbane's fast-growing North Quarter precinct. The development, a 37-storey A-grade office tower, is slated for a 3000sq m riverfront corner site, created from the amalgamation of properties at 205 North Quay and 30 Herschel Street. Proposal features a whole-floor wellness facility, 25-metre lap pool, childcare facilities, a public realm auditorium, outdoor terraces on every level plus rooftop facilities. It will add 50,000sq m of net lettable area to the Brisbane CBD office market.

An artist's impression of 205 North Quay.